Everything you need to know about sport scholarships and much more.
When should you start your university/college recruitment process?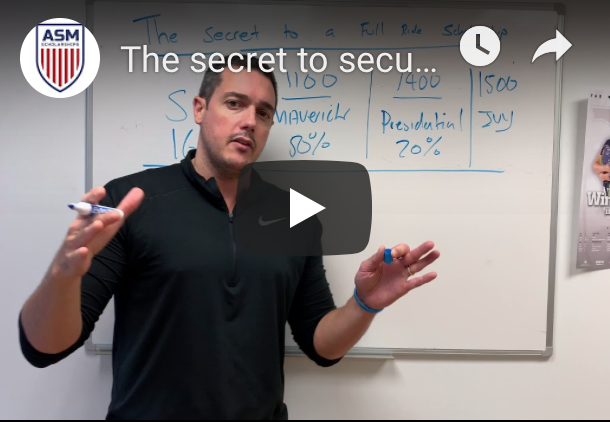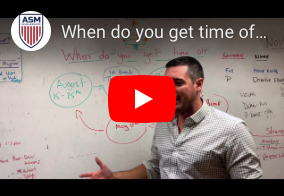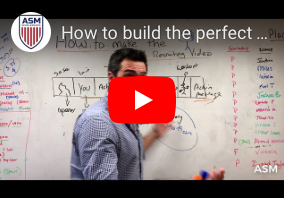 When do you get time of school?
How to build the
perfect profile.
The secret to securing a full ride sport scholarship.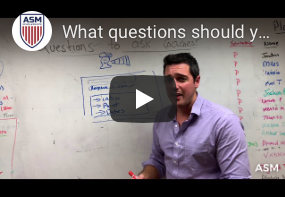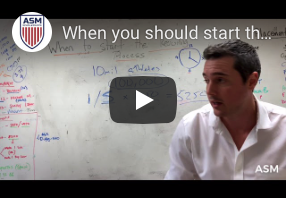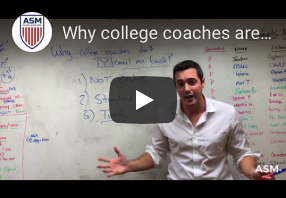 When should you start the recruitment process? Video 2
Why college coaches are not emailing you back.
What questions should you ask during your coach interview.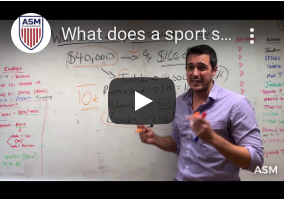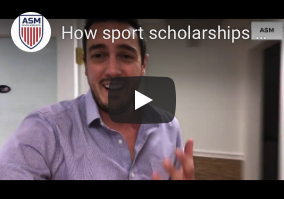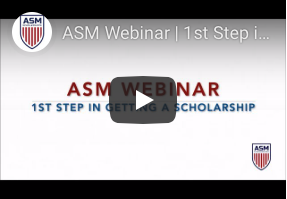 What does a sport scholarship actually cover?
How sport scholarships is like a box of chocolates.
Step 1 in the recruiting process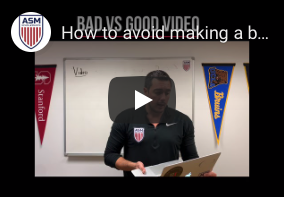 How to avoid making a bad highlight recruiting video.
College coach interviews, placements & Tours
NCAA D1 vs NCAA D2 Universities in Florida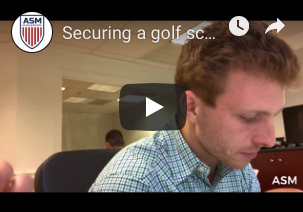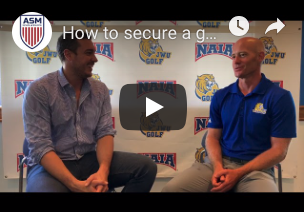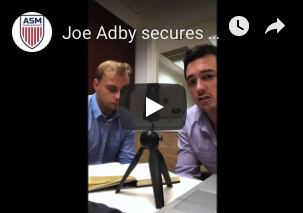 Securing a golf scholarship in Florida.
How to secure a golf scholarship at Johnson & Wales University.
Joe Adby secures our client a soccer scholarship.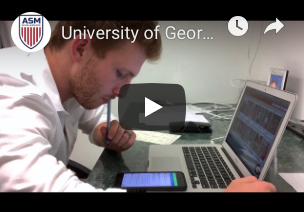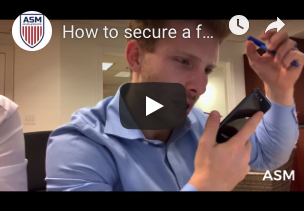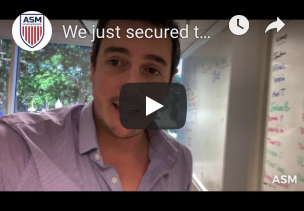 Starting the recruitment process at 12 years old.
We just secured a full ride football scholarship.
We just secured 3 sport scholarships for our athletes.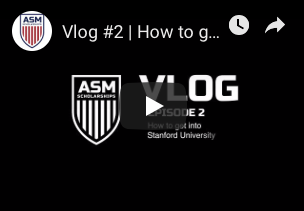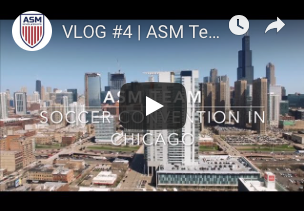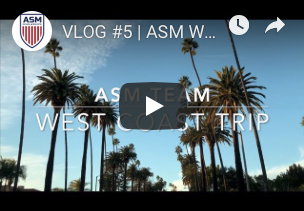 How to qualify for Stanford University?
We went to the 2019 MLS draft and Soccer convention .
West coach trip, Los Angeles, Las Vegas and Arizona tour.
Ernie Els - Co Founder of ASM, opinion of college sports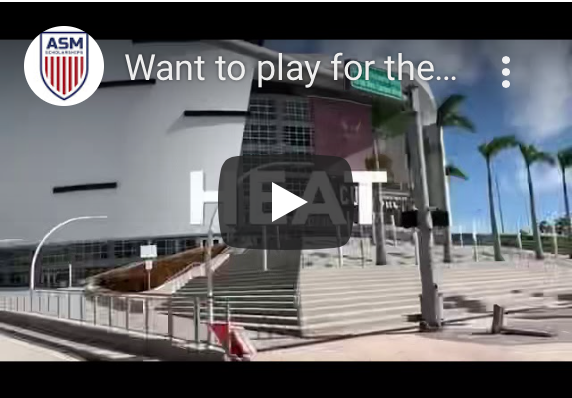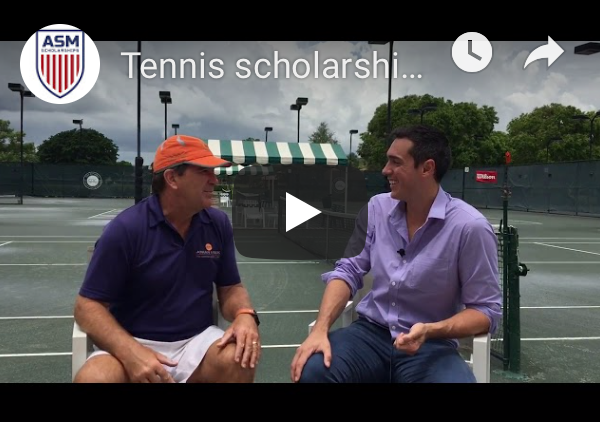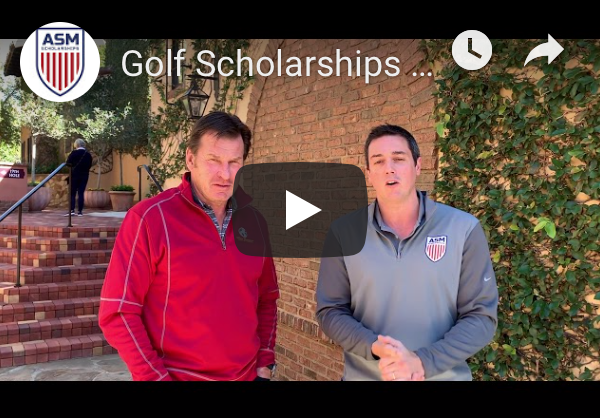 Sir Nick Faldo's golf recruitment program.
Behind the scenes at Miami Heat NBA team.
College tennis and how to be a 2 time major champion, Johan Kriek interview.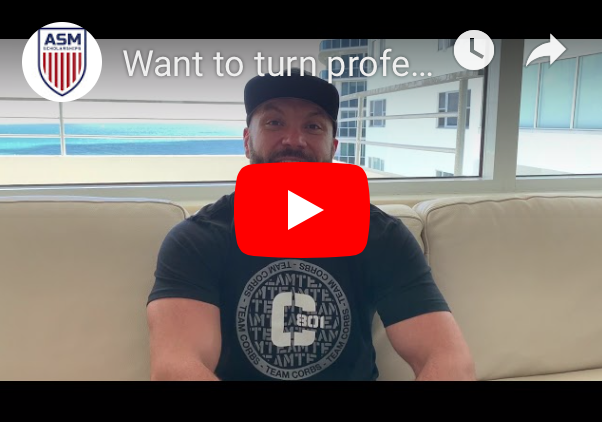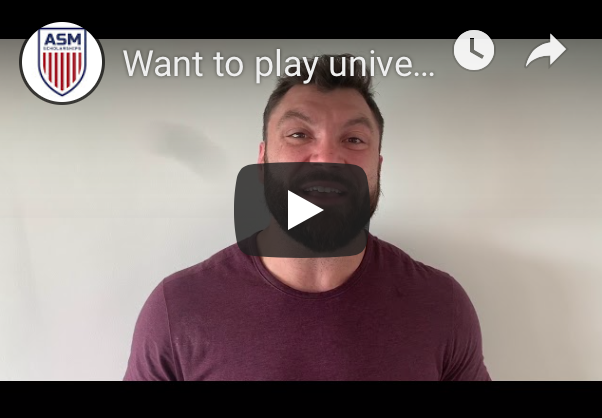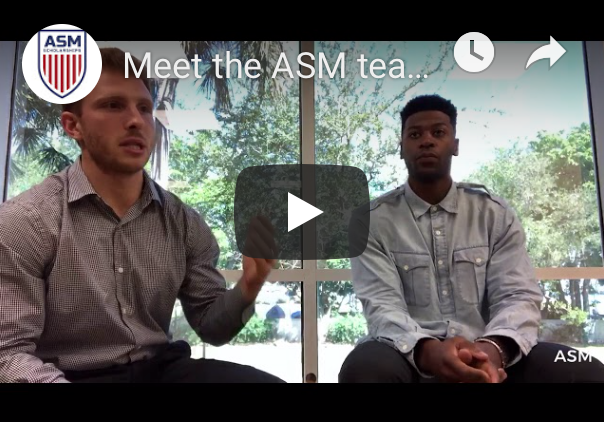 How to become a professional rugby player in the MLR after university.
Former rugby England international, Alex Corbisiero opinion of college rugby.
Interview with former NFL star Daniel Thomas.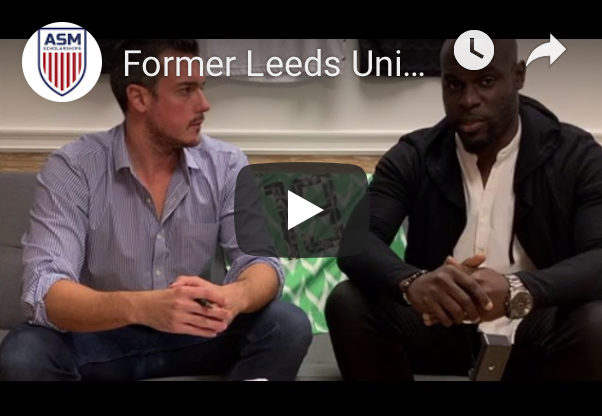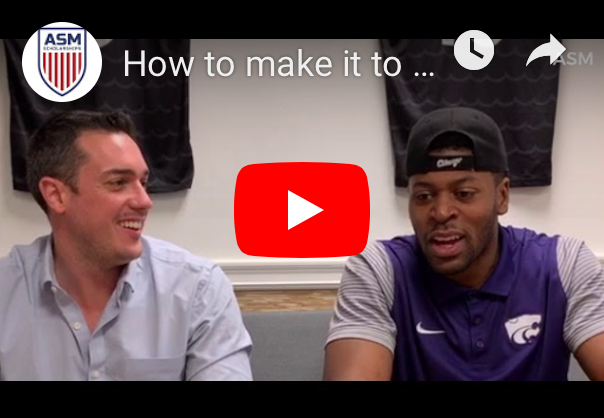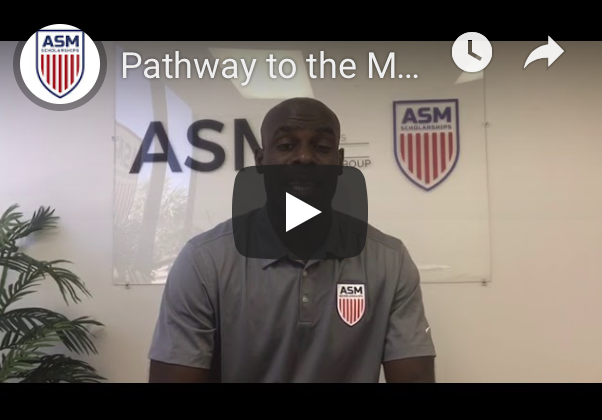 How to become a professional MLS soccer player in America.
Live instagram interview with former Leeds United player Enoch Showunmi.
Live instagram stream with Daniel Thomas. How to get an American Football scholarship and make it in the NFL.
Success stories at ASM Scholarships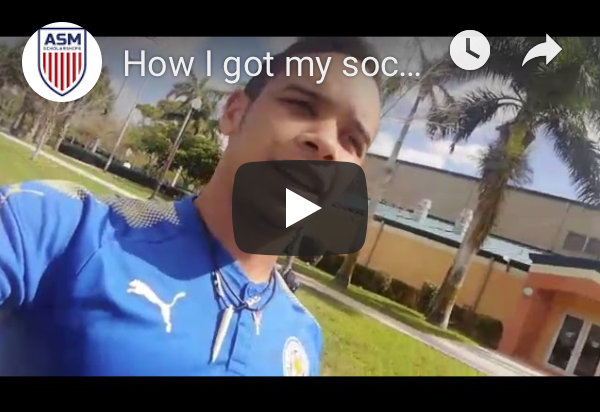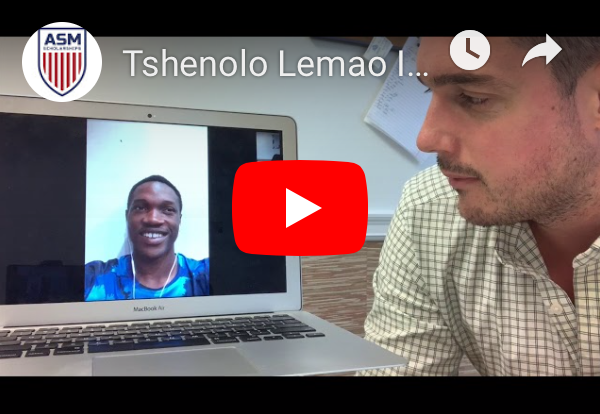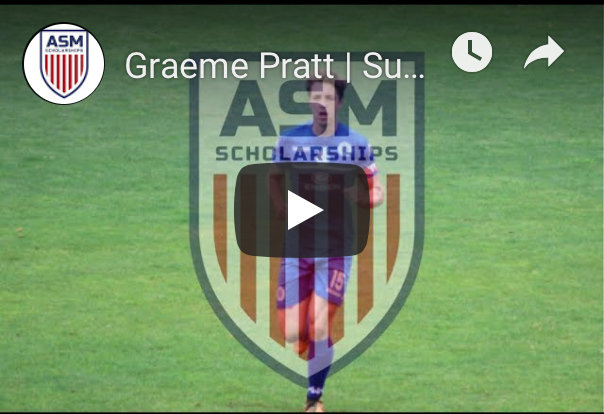 Tshenolo Lemao interview with Chris Vidal. FSU scholarship.
Gabriel Van Wky, how American soccer is changing my life.
Graeme Pratt how I got my soccer scholarship.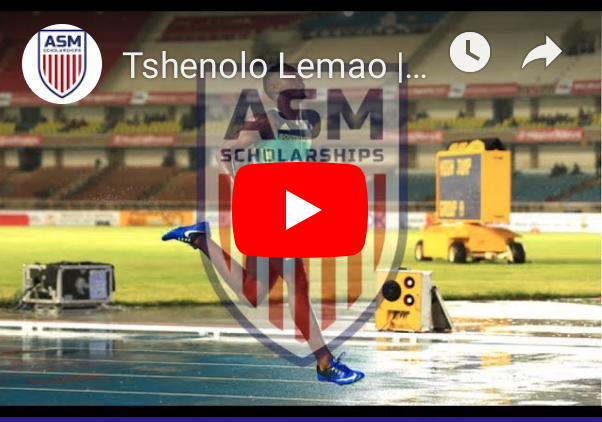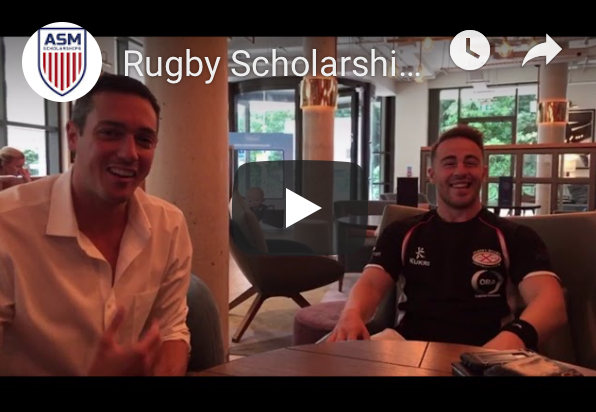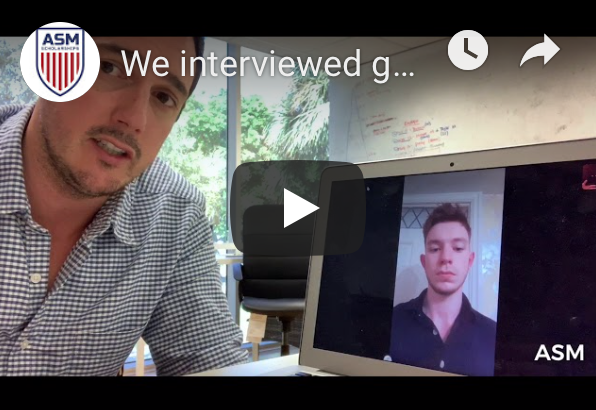 Tshenolo Lemao commits to FSU. South African National TV interview
Interview with UK rugby player Chris about his recruiting process.
Interview with Luke Bartram, golfer from the UK.
ASM Scholarships student athlete information guide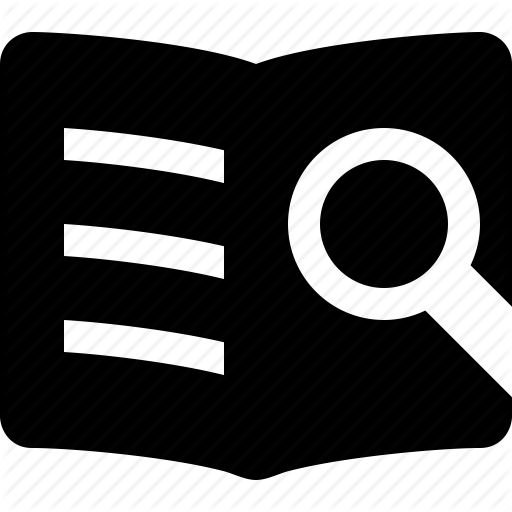 Can I transfer from one college to another?
You are able to transfer from one college to another so long as you have earned at least 24 credit hours at the initial university you attended. If you were to transfer more than on one occasion during your college career then you will be asked to sit-out a full year of competition in order to regain your eligibility. Acceptance of college credit from one university to another will be decided by the admissions office at the receiving university. There is a chance that not all credits will be transferable and these cases are reviewed on a case-by-case basis.
What is the NCAA?
The NCAA is the most recognized association with the most schools registered and scholarship money available. Within the NCAA there are 3 divisions an athlete may compete in.
What is the NAIA?
The oldest association is the NAIA. Universities under the NAIA typically are smaller in size than universities compared to the NCAA. They also offer very competitive programs for student athletes.
What is the NJCAA or junior college?
Junior colleges are 2 year universities that allow student athletes, typically who started the recruitment process late or have less academic standards, to gain entry into collegiate sports. An athlete will either enroll into the NJCAA or CCCAA for two years and obtain an associates degree with transfer option to a four year university to complete his or her bachelor's degree.
How do I get an academic scholarship?
Student athletes are also eligible for academic scholarships if their grades and test scores qualify. Academic scholarships become great opportunities for athletes if they're not able to secure an athletic scholarship or they need more financial aid in addition to a smaller athletic scholarship package. To earn an academic scholarship, you need to have strong grades and test scores. Each university has different measures for their academic scholarship requirements, so once you start speaking with college coaches, you can ask if your grades qualify for academic money
When do I need to sign up from the NCAA Clearinghouse
High school athletes should register for the NCAA Clearinghouse (now called the Eligibility Center) at the beginning of their junior year. However, everyone has a different recruiting experience, so some might register earlier, some later. Ultimately, only athletes who are going to compete at the Division 1 and 2 levels need to register with the NCAA Eligibility Center.
It's a good idea to start conversations with college coaches at programs you're interested in before you register for the NCAA Clearinghouse. This is to confirm that you do have interest from either D1 or D2 schools before you spend unnecessary time and money to register.
When you do register, a college coach will need to ask that your profile be placed on the Institutional Request List (IRL). College coaches use the NCAA Eligibility Center to verify your academics and your amateurism. Only when a coach does this will your information be processed. Also, until you register with the Clearinghouse, you will not be allowed to go on official visits to schools or receive official scholarship offers.
Can professional athletes get sport scholarships?
No, you must be classified as an amateur sports athlete.
Do all universities offer sport scholarships?
While all colleges and universities offer different kinds of scholarships, they don't all have athletic scholarships. Only NCAA Division 1 and 2, NAIA and NJCAA schools can offer scholarships to all sport athletes. However, Ivy League schools and NCAA Division 3 schools do not have athletic scholarships. These programs use financial aid from other parts of the university, but not from the athletic department. Being a strong student and athlete will help you find more college opportunities and get financial aid. Make sure you work hard to be a well-rounded student athlete; college coaches are only interested in athletes who succeed in both the classroom and on the field.
What are the standards needed for an academic scholarship?
To qualify for a college academic scholarship, you will need to meet certain requirements. While these specific requirements will vary with each school, the idea is the same. If you work hard and maintain a high GPA and do well on the SAT/ACT, then you could be rewarded with an academic scholarship. Per the NCAA you need a minimum 2.0 GPA and a 1100 on the SAT as well as a combined score of 86 on the ACT. These requirements are on a sliding scale, so if you have a higher GPA then your test scores can be relatively low.
College coaches want to see that you are a strong athlete and student. In addition to earning an athletic scholarship, you could also earn some academic financial aid if the coach thinks you meet the institution's requirements. If you think you might qualify to earn an academic scholarship, do some research at the schools that you have applied to or plan on applying to. You can only earn a scholarship from the school if you have applied and been accepted. You can also talk to the coach and see if they might be able to add an academic scholarship to your financial aid package.
How long does it take to get a sport scholarship?
The length of the recruiting process is different for every student athlete. Ideally, you should start the recruiting process as soon as your 1st year in High School. There is a ton of information to know about the recruiting process so being prepared once you start high school is a good idea. Doing research or obtaining the help of a recruiting service are both great ways to help you get ready for the recruiting process as you enter high school. Start by scheduling the core courses you need to be eligible for the NCAA. Once you have your classes set, start researching colleges you're interested in. You'll also want to put together a resume that highlights your athletic and academic accolades, with a recruiting video and a short cover letter telling the coach why you're interested in their program. Then start contacting coaches and sending them your resume.
What is the National Letter of Intent (NLI) ?
This is a binding contract between you and the school for one year. Once you have signed this contract you are committed to that school for one year and you are no longer eligible to sign with a different program.
What happens if I change my mind after signing the NLI?
You are bound to the agreement signed with the NLI. If you do not honor your NLI you lose one year of Eligibility and must serve one year's residence at your next NLI institution before receiving a scholarship.
What is redshirting?
You are allowed five years to compete four years at the college level. If you are eligible to compete but choose to sit out that year it is called you redshirt year.
What is gray shirting?
You are allowed five years to compete four years. If you have experienced a season ending injury, medical or family emergency you can apply for an extra year of eligibility. This extra year is known as a Grayshirt.
What is the quiet period?
Coaches cannot evaluate you nor have any in-person contact with you from outside of their college campus. You can visit a coach on their campus during this time. Coaches can write or call you during this time.
What does it mean ASM Scholarships is approved & certified?
NCAA Division 1 colleges and universities are only permitted to work with scholarship agencies that are approved through the NCAA scouting service approval process. The NCAA is recognised as the main governing body of American college sport. The association oversees 89 championships in 23 sports. There are more than 450,000 student-athletes competing in three divisions at over 1,000 colleges and universities within the NCAA. The approval process was implemented by the NCAA national office, to ensure compliance with legislated requirements governing the elements required to permit an institution's subscription and interaction with scholarship agencies and their prospective athletes. ASM scholarships service is one of the most comprehensive and successful in the World. The company has assisted over 4000 student-athletes with their placement at American colleges and universities.
What does a full ride sport scholarship cover?
A 'full' or '100%' scholarship covers the cost of tuition, room, board, books and sports related clothing & equipment.
What is an athletic scholarship?
These are awarded to students who are going to compete on behalf of the school in sanctioned athletic competitions. You are not guaranteed a scholarship if you are going to play sports at your school. The possibility and amounts of each scholarship depend on the team and University.
What is an athletic scholarship?
These are awarded to students who are going to compete on behalf of the school in sanctioned athletic competitions. You are not guaranteed a scholarship if you are going to play sports at your school. The possibility and amounts of each scholarship depend on the team and University.
How long does a sport scholarship last?
Sports scholarships are given on a yearly basis, however some schools will offer scholarships for the complete duration of an athletes study. At the end of each year, scholarships are renewed by the coach and athletic department, provided that you remain eligible throughout the year. You are allowed to be on athletic scholarships for up to five years in your college career. Coaches are able to adjust the amount of the scholarship at the end of each year when it expires. That means they can increase, decrease, or get canceled altogether.
In order to make sure that you maintain your good status and keep your scholarship, you need to make sure you do what is expected of you. As a student-athlete, that means keeping up in your classes, getting good grades, training and contributing to your team. If for some reason you become ineligible in any way, the coach has full right to give your scholarship away to someone else.
How do I know I'm good enough to qualify for an academic or sport scholarship?
Easy go to > Book a free consultation < and our ASM Scholarships team will reach out to you to start the qualification process. During this process we will be able to determine how much scholarship money you will qualify for and what types of schools and divisions you can participate in.
How much does ASM Scholarships cost?
We have a range of college recruitment programs to meet all needs of our clients.
> Online profile - Free 14 day trial, then if you like it $9 a month, cancel anytime
> 12 month online profile + Scholarship Academy course $495
> 12 month online profile + Scholarship Academy + Mentorship $1997
> Personal recruitment manager, starts from $3950
Do I need health insurance?
Most universities offer basic health insurance coverage, however most plans do not include coverage outside of the university for personal activities or during non university periods. It's recommended to purchase additional health care to cover all eventualities. ASM Scholarships has partnered with Lloyds of London to develop insurance coverage that covers all athletes requirements including sport scholarship insurance > Learn more >
What is sport scholarship insurance?
The average sport scholarship an athlete secures with ASM Scholarships is between $30,000 to $45,000 per year. The most common way a student athlete loses their sport scholarship is due to injury, in which case the coach may deem you unable to compete for the team and revoke your sport scholarship for the remainder of your university course. With sport scholarship insurance you wont have to cover the bill for tuition as sport scholarship insurance will pay your tuition fees.
What is sport scholarship stipend?
Coaches will offer scholarship stipends to extremely talented athletes to help cover the cost of:
> Food off campus
> Flights to school
> Clothing
> Additional training
The average stipend is around $6000 per year
What does a sport scholarship not cover?
A sport scholarship will not cover:
> SAT Registration - average $125
> Toefl registration - average $195 (International student only)
> NCAA or NAIA clearinghouse fee - average $125
> Visa - average $450 (International student only)
> Flights - average $750 (Unless a stipend is received)
> Spending money - average $1000 (Unless a stipend is received)
Can I work when in university?
American student athletes can work on and off campus during their duration in university. International student athletes can only work on campus. Most on campus jobs pay between $9-15 an hour with the average student making $3000 - $5000 a year
Where is ASM Scholarships located?
Our head office is located in West Palm Beach, FL. All our clients are welcome to come visit our office at 4512 North Flagler, suite 306, West Palm Beach, FL, 33407, USA. Our team consists of 14 full time team members at HQ. We also have offices in Manchester, London - UK, Paris, Munich, Madrid, Rome, Sofia, Warsaw, Moscow, Cape Town, Sydney, Hong Kong and Beijing.
Does ASM Scholarships look after clients during university?
YES, Our Premium and VIP personal recruitment programs offer 4 year support services during your time at university from our HQ team in Florida. Your will be assigned a team manager to help you with general support, internship allocation, job placement and and pro management connection.
Who founded ASM Scholarships?
ASM Scholarships was founded by Chris Vidal and Co-Foundered by 4 time major golf champion Ernie Els from South Africa. Chris Vidal from London, UK played highly competitive golf for Surrey and England and decided to come to America on a golf scholarship to further his eduction and golf. During college he saw how many student athletes were trying to get recruited themselves and had no clue what they were doing or were using recruitment agencies that were not doing a good job at placing their clients. Chris saw an opportunity to revamp the industry and got straight to work. In 2009 he was voted by the Commonwealth Heads of Government as the go to expert for college recruitment and went on to work with the International Olympic Committee, British, Hungarian, German, Swiss, Chile, South African, Barbados and Jamaican National Olympic Committee's, Sport Accord, World Golf Foundation, Uefa, Fifa, AISTS, British Ministry of Sport & Education, Dubia Sports Council, R&A, World Olympians Associations, and advised over 19 international and national sport federations.
How can I apply for an internship or job at ASM Scholarships?
Simple. Send an email to team@asmsportsgroup.com , Preferable include a 60 second video why you want to work or
intern with us.
ASM Scholarships is a sport scholarship agency that connects student athletes to U.S. University coaches in America. Our network consists of over 20,000+ university coaches within the NCAA D1, D2, D3, NAIA, NJCAA and CCCAA. On average we secure $30,000 per year in sport scholarship funding for our athletes allowing students to compete and study at an American University.